Student selection The Best Dutch Book Designs 2021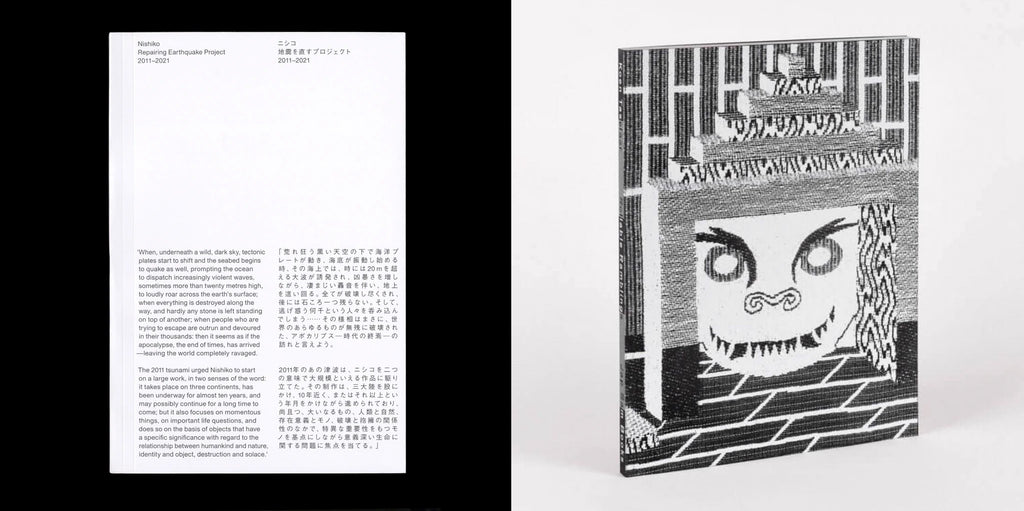 Two of our titles are selected by the student panel of The Best Dutch Book Designs 2021!
As already mentioned, Koen Taselaar. Rollable Ramblings is selected by the professional panel as well as by the student panel. This publication is covered extensively in our last blogpost, click here to read.
Now onto Repairing Earthquake project 2011-2021 by Nishiko which is selected by the student jury for The Best Dutch Book Designs 2021 Student Selection!
The student panel consists of 5 students from top rated art academies. Patrick Hutchinson (KABK), Michiel Teeuw (Minerva), Martina Vanini (Rietveld), Polina Slavova (ArtEZ) and Chris Boender (HKU).
Repairing Earthquake Project 2011-2021 started with the simple idea of repairing objects broken by the Great Eastern Japan Earthquake of 11 March 2011. Nishiko first visited the hit areas of Miyagi in 2011 and multiple more visits followed in the years after her first trip, following the progression of reconstruction of buildings, memories, and observing changing traces of the aftermath as they are slowly wiped away. 
The project naturally grew to encompass work and action on multiple levels, including interactions with visitors during the repair sessions in exhibitions in Japan, participation of Dutch audiences in repair or by adopting the repaired objects, collaborative searches for tsunami debris carried to Canadian beaches by ocean currents, and the remarks and questions left by hundreds of passers-by during the entire process.
Repairing Earthquake Project 2011-2021 by Nishiko is designed by Janneke Hendriks and Sepus Noordmans. The design is delicate and displays the photo's and fragments of memories of the residents of Miyagi. Nishiko illustrated the stories of the residents as well. Next the process of repairing is showed. The publication ends with the object list of all of the repaired objects, which were auctioned under the condition the objects could still participate in future exhibitions.
Thanks to the student panel for selecting two of our titles!
Design by Janneke Hendriks and Sepus Noordmans
Printed by Graphius (B)
This publication was made possible by the Mondriaan Fund, Stroom Den Haag, Jaap Harten Fonds, Prins Bernhard Cultuurfonds / Tijlfonds.