10.11.2017 - Book launch Tirzo Martha – I wonder if they'll laugh when I'm dead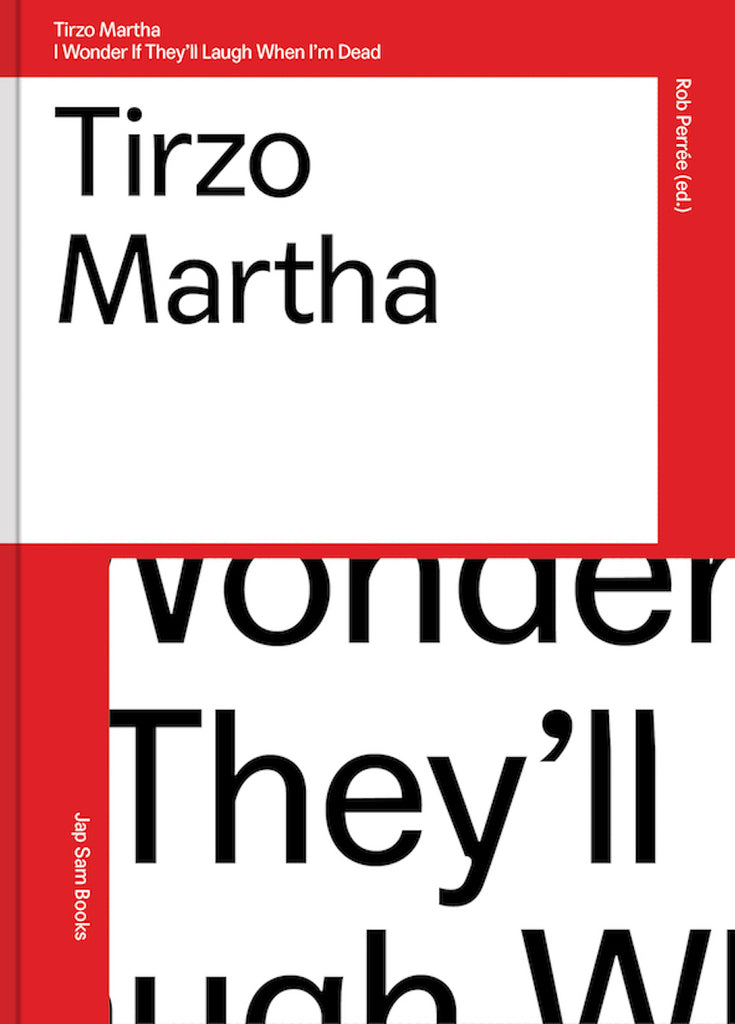 BOOK LAUNCH Tirzo Martha – I wonder if they'll laugh when I'm dead
Date: 10 November 2017, 17,30 hrs. Location: Museum Beelden aan Zee,  Harteveltstraat 1, 2586 EL The Hague, www.beeldenaanzee.nl
On November 10th, the first monograph on the work of visual artist Tirzo Martha (Willemstad, Curacao 1965), will be presented at museum Beelden aan Zee in The Hague. This extensive publication, edited by Rob Perrée, with a design by Edwin van Gelder/Mainstudio, published by Jap Sam Books, has been made possible by the Fonds Ars Antilliani administered  by the Prins Bernhard Cultuurfonds, the Mondriaan Fund and the Harten Fonds.
Tirzo Martha - I wonder if they'll laugh when I'm dead includes an intriguing compilation of his works of art. A selection of the newest installations will be on display in the exhibition No Excuses! from 3 November onwards in museum Beelden aan Zee. Martha is driven by a deep engagement with the world around him, in particular with Curaçao and the Caribbean. His versatile, critical, political and socially charged oeuvre includes images, installations, assemblages, videos and performances, and have been brought together in this monograph. You are cordially invited to attend the book presentation in Museum Beelden aan Zee.
Friday 10 November 2017 programme (programme language Dutch):
17:30 - Welcome by Alessandra Laitempergher, curator of the exhibition No Excuses!
17.45 - Introduction to the oeuvre of Tirzo Martha by Prof. Dr. Kitty Zijlmans
18:00 - The design concept by designer Edwin van Gelder, introduced by publisher Eleonoor Jap Sam
18.15 - Interview with Tirzo Martha by Rob Perrée 18.35 - Drinks
Please RSVP before 8 November at Frédérique Brinkerink by email: brinkerink@sculptuurinstituut.nl
On behalf of the team of museum Beelden aan Zee, publishing house Jap Sam Books, artist Tirzo Martha and editor Rob Perrée we hope to see you on November 10th.
Book information: Rob Perrée (ed.), Tirzo Martha, I wonder if they'll laugh when I'm dead, Jap Sam Books 2017, 304 pages, 16.8 x 23.5 cm  ISBN: 978-94-90322-88-5 | € 29,50. 
Design: Edwin van Gelder, Mainstudio. With contributions by Tirzo Martha, Kitty Zijlmans, Annie Paul, Jennifer Smit, Michèle Dalmace, José Manuel Noceda Fernández, Carlos Garrido Castellano, Orando Britto Jinorio, Yacouba Konate, Adi Martis, Rob Perrée, Alex van Stipriaan. 
Made possible by the Fonds Ars Antilliani administered  by the Prins Bernhard Cultuurfonds, the Mondriaan Fund and the Harten Fonds.
For more information: https://nl.japsambooks.nl/collections/nieuwe-titels/products/tirzo-martha-i-wonder-if-theyll-laugh-when-im-dead and http://tirzomartha.com.
About the speakers:
Kitty Zijlmans has been Professor of Contemporary Art History and Theory/World Art Studies at Leiden University since 2000. From January 2011-September 2014 she was Academic Director of LUCAS, Leiden University Centre for the Arts in Society. Her fields of interest are contemporary art, art theory, and methodology. She is especially interested in the on-going intercultural processes and the globalization of the (art) world, and increasingly collaborates and exchanges with artists in the context of the field of artistic research. Together with Wilfried van Damme she published World Art Studies: Exploring Concepts and Approaches in 2008. In 2010 she was accepted as a member of the KNAW, the Royal Netherlands Academy of Arts and Sciences. She is a member of the Supervisory Board of BAK (Basis voor Actuele Kunst/ Base for Active Knowledge) in Utrecht and the Bonnefanten Museum in Maastricht. She works and lives in Leiden.
Rob Perrée graduated in Dutch language and literature and in art history at the University of Amsterdam. He is an independent international writer and curator with a focus on media art and contemporary African-American, African and Caribbean art. He was a member of the editorial staff of Kunstbeeld Magazine, Pf photo magazine and Tubelight.  His articles have been published in books, catalogues, magazines and newspapers. He has published books on video art, African-American art and artist's books, among other things. He is the founder and editor-in-chief of the online magazine http://www.africanah.org, a platform for contemporary African, African-American and Caribbean art. He lives and works in Amsterdam and Brooklyn.
Edwin van Gelder is a Dutch graphic designer and art director based in Amsterdam. He graduated in 2004 as a graphic designer at the Utrechtse Hogeschool voor de Kunsten and founded the graphic design studio Mainstudio in 2005. Known for its typographically driven, clear conceptual designs for clients within architecture and contemporary art, Mainstudio creates projects at the crossroads of art and architecture, including 
publications, digital media and visual identities. Van Gelder has received numerous international awards, including the 'Best Book Design from all over the World' (2013), 'Best Dutch Book Design' (2011, 2012, 2015, 2016) and the 'Art Directors Club New York' (2009).
http://mainstudio.com
Jap Sam Books